Does Size Matter? Scale your law firm for the right reasons
Understanding where your firm is positioned on the legal value chain is a crucial exercise while evaluating growth plans.
Law firms in India are getting bigger, and purposefully so. The largest law firms are close to 1000 fee earners, which is fairly large by global standards, especially given a focus on one jurisdiction. The top 5 firms are all between 500 and 700 fee earners. We also have a sizable number of firms now that are between 200 and 400 lawyers strong.
We are seeing a purposeful shift towards firms becoming larger. This reflected in our definition change for mid-size firms for the Vahura Best Law Firms to Work Study 2022. In the 2018 study, mid-size firms were defined as having less than 200 lawyers] and in 2022 this was revised to include firms with 200-250 professionals.
The stated reason for the up-sizing trend with Indian law firms is that it will put the firm in contention for the bigger deals, that only go to the larger firms. This is indeed the case, for supersize deals or "bet the company" matters. We would classify this work as "Letterhead Work". As the old adage goes "no one got fired for hiring IBM". The client retains a 'big name firm" on the matter so that no questions are asked if things go awry. It so happens that these 'big name firms' are also large in size. But it would be inaccurate to only ascribe this status to size alone. In India, the Big6 (in our view) as of January 2023, would be (in no particular order) AZB & Partners, Shardul Amarchand Mangaldas & Co., Trilegal, Cyril Amarachand Mangaldas, Khaitan & Co. and JSA. The set of 'big name firms' would also change on a matter based on practice area, nature of the client, key partner involvement and hyper-local factors, for instance, litigation, real estate, community of key stakeholders.
Before upsizing, firms should introspect on the classification of matters they assist their client with on a routine basis.
Aside from "Letterhead Work", we would classify all other matters as falling under one of three categories - Efficiency, Experience and Expertise [1].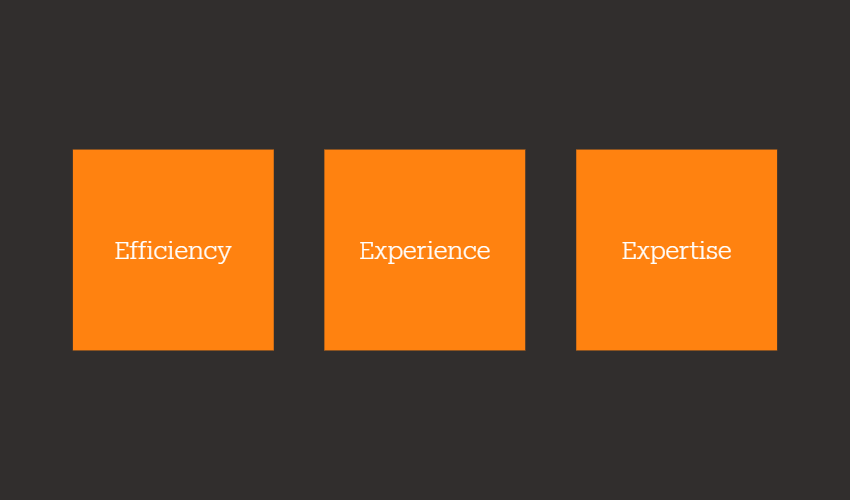 "Efficiency Work" puts a premium on speed (quick turnaround), the ability to handle high volumes and is price sensitive. Areas of legal work that have a high degree of standardisation and limited spread of negotiations or representation would fall in this category. For eg., Very early-stage investment transactions, and project finance transactions. Law firms that invest in knowledge management and technology have a distinct advantage here.
Where a client seeks out a firm that has done similar matters for other clients, we would classify that as "Experience Work". Capital markets is an excellent example, where a company preparing for an IPO, seeks out a law firm that has advised others in a similar position and also understands the perspective of the regulator and other stakeholders. Experience work is well suited to a 'bid system' of choosing the best firm, based on similar work done in the past and the credentials of the team working on the matter. It is faster to inorganically grow (via practice acquisition) the Experience work segment than to build it organically.
When the client has a novel problem, is in uncharted territory or seeking an innovative solution to a legal issue, they are seeking "Expertise Related Work". Expertise goes beyond just Experience, as there is no direct precedent for the situation.
Some clients may mistakenly view their matter as requiring Expertise when it is really an "Experience" category, and that arbitrage is leveraged by firms in the form of high fees.
The choice of which firm to go to for Expertise work often comes down to the 'Expert' who will lead the matter, and their understanding of the area of law, the sector, and most importantly their "compounded reputation" for being able to provide a solution. For most of modern law firm history in India (post-liberalisation), this has been the domain of the big-name trusted advisors to corporate India. This category of trusted advisors has expanded to include the next generation of top practitioners in the field. Deep niches, sectoral understanding and change of guard for instance 2nd generation promoters, next-generation CEOs and growth company founders in corporate India.
*[1] As defined by David Maister in "Managing the Professional Services Firm" (1993)

In our view, the best reasons for up-sizing include:
Where the firm is refusing work (because of bandwidth), or consistently referring work out (eg., to a disputes firm).

Where key clients are asking the firm to expand in terms of practice area (eg., litigation, competition law, capital markets) or location (from 1 city to multi-city)

To inorganically grow an Experience-based practice area.

To inorganically bring in a 'big name' partner who as a trusted advisor can draw Expertise work to the firm.
Clients today are very savvy. They have a good understanding of what it takes to effectively staff a matter. Size alone is not a sufficient proxy to draw 'Letterhead' work. With a growing economy and increasing regulatory complexity, the demand for corporate legal services will increase exponentially. We will have firms getting larger. The more successful ones will do so for the right reasons.