A Glimpse into the Future of a Liberalized Legal Landscape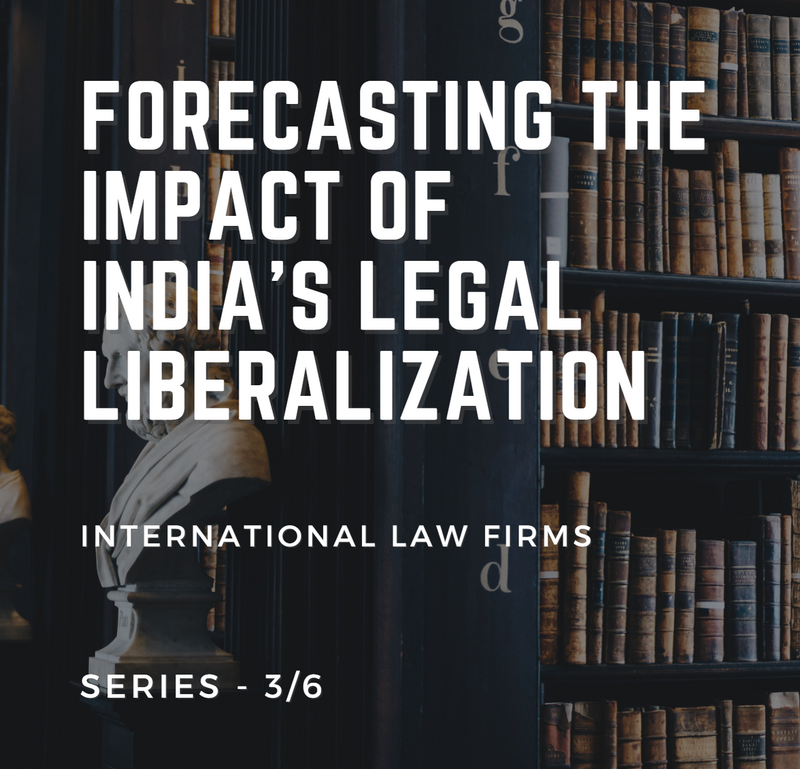 We are already seeing increased recruitment activity around India-oriented practices. These are primarily in the areas of M&A, Disputes and Banking & Finance, out of the UK or Asia. The demand is primarily for lateral lawyers in other international firms, who also have an India-focus as part of their overall practice.
International law firms will invest in a more regular engagement with the Indian legal ecosystem. This will include the client community, Indian law firms and law schools. Already, you have UK-based law firms sponsoring moot court and negotiation competitions and academic scholarships in Indian law schools. Expect to see more of that as hiring activity ramps up for their India outposts.
A majority of international firms, especially in the near term, will continue to opt for the 'fly in-fly out' (FIFO) option. The primary concern for international law firms is the tax risk of global revenue being assessed in India. Depending on the structure of the firm, Indian tax laws allow ILFs to engage in billable work for 90 to 180 days in a 12-month period. The BCI Rules permit only 60 days FIFO for ILFs who are not registered in India. This inconsistency between the BCI Rules and the tax regime creates further regulatory and tax risk for ILFs. The interpretation of this restriction will have a bearing on the nature and extent of the ILF's physical presence and practice design in India.
While there may be a large number of applications filed, we expect 12 to 15 international law firms to set up operating offices in India in the near term. In the initial phase, these offices will be the size of a boutique firm with less than 25 lawyers. We expect to see most firms first set up in Mumbai, with a second office in Delhi or Bangalore, based on the lead practice areas of the international law firm.
As international firms set up offices in India, they will also recognise the benefits of building innovation teams out of India, given the access to top talent and cost benefits. These teams will likely be staffed with management professionals, technologists, data scientists and lawyers. We may also see acqui-hires of legal technology companies into these innovation teams. In January 2020, DWF, a listed law firm based in the UK, acquired Mindcrest, one of the first Legal Process Outsourcing companies functioning out of India. Action—and competition—in this deal space is likely to hot up in the medium to long-term.
The Big Four Accounting firms—EY, PWC, KPMG and Deloitte—have undertaken significant expansion of their law practices. A study by Saïd Business School at the University of Oxford estimates that the combined revenue of the Big Four Law firms is USD 1.5 billion. The Big Four law firms are among the top 10 firms by revenue in Spain, Italy and France. In comparison, Vahura estimates the revenue of the top 10 to 12 Indian law firms to be in the range of USD 800-900 million. SILF, in their representation to the BCI, specifically points to this as an area of concern and are lobbying for additional eligibility criteria to prevent multidisciplinary firms from entering the market.
We'd love to hear your thoughts and perspectives on India's legal liberalization and its impact on the industry.
Your input is invaluable to us, and we invite you to share your point of view or experiences related to this evolving landscape. Please feel free to write back to us at consulting@vahura.com. Let's engage in a constructive dialogue and contribute to shaping the future of India's legal sector together!
Experienced Professionals - Part 1

Lawyers with cross-border deal experience and international arbitration expertise will be in high demand. There will be a premium on dual-qualified lawyers (DQLs), especially those with ILF experience. We will see movement of DQLs to ILFs looking to strengthen their India-oriented practices. Such…

Indian Law Firms - Part 2

We expect to see groups of partners and teams from large law firms break away to set up on their own. The goal will be to establish a reputed, high-quality law firm that is well suited to partnering with international law firms.

Corporate Legal Departments - Part 4

We conducted a survey with our client community for an understanding of how the entry of foreign law firms into the Indian market would affect their engagement with external legal counsel. The survey was attempted by 78 professionals, including General Counsel, Head-Legal, CFOs, CEOs, and Founders…

Litigators and Chambers - Part 5

One of the stated objectives of liberalisation is to make India a preferred destination for international commercial arbitration. International lawyers are being encouraged to represent their clients in international arbitration being held in India. But the BCI Rules and subsequent clarifications…

Law Students - Part 6

India's demographic dividend is expected to pay out over the next couple of decades, with the country expected to host the world's largest working population by 2030. The entry of international firms will create increased demand for talent in Indian law firms, in-house legal teams, chambers and in Legal Tech.